KIP 9900 Digital Document System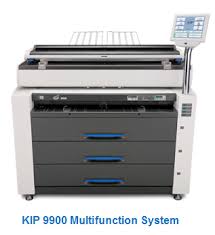 KIP 9900 Series Systems:
Meticulously engineered to set the new standard for high demand
print production. Designed to deliver breakthrough quality and
performance. Faster, Sharper, Incredibly Powerful.
Incredibly Fast Production
Built to set a new benchmark in high production environments, the
KIP 9900 produces 22 'D' size prints per minute – making it over 15%
faster than any other system in its class.
Enhanced Image Quality
Enhanced 600 x 1800 dpi print resolution realistically renders
accurate grayscale information and fine line capabilities to satisfy
the most exacting quality standards. Color documents are easily
scanned into digital files or high fidelity copies when the system is
integrated with either the KIP 720 or KIP 2300 scanners.
High Demand Versatility
To boost production capacity, KIP 9900 systems are integrated with
a range of online print stacking and folding devices may be
feature upgraded at any time as production needs increase.
Key Features:
Reduced Installation Time
Low Maintenance Part Costs
Reduced Service Times
600 x 1800 dpi Resolution
100% Toner Efficient
Consistent Print Quality
Uniform Cut Length
22 'D' size per min
1,320 'D' size per hour
7,920 'D' size 'per day (6 hrs)
47,520 square feet per day (6 hrs)
4 Rolls Standard Media Capacity
Multi Sheet Bypass Feeder
Smooth Grayscales and Fill Areas
KIP Cloud Printing & Scanning
Web, PC & Touchscreen Apps
Certified 32 & 64 bit Drivers
Cost Reporting for all Functions
For more information or a quote, call us @661-325-2695.