The New KIP 7770 / 7970 Digital Document System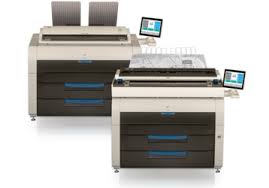 The KIP 7770/7970 Systems with KIP software offer powerful
multifunction workflow opportunities in one small footprint
for the wide format market. These systems provide best in
class value, image quality, ease of use, reliability, flexibility
and productivity. KIP 7770/7970 Systems provide powerful
copying, printing & scanning performance at an attractive
price with the industries lowest ongoing operational costs.
Because of ease of use, 600 x 1200 dpi resolution, and low
total cost of ownership, these systems make it possible for
customers to bring print for pay jobs in-house to shorten
turnaround times and reduce expenses. And with the
added benefit of a small system footprint with rugged
construction, they fit exactly where needed; including tight
spaces, work site construction trailers or busy in-plant shops.
Key Features:
* Exceptional Value
* New Total Parts Guarantee
6 months / 250,000 sq. ft.
* New Industry Leading
LED Head Warranty –
12 months / 500,000 sq. ft.
* Reduced Installation Time
* Low Maintenance Part Costs
* Reduced Service Times
* 600 x 1200 dpi Resolution
* 100% Toner Efficient
* Consistent Print Quality
Uniform Cut Length
Low Energy Consumption
For more information or a quote, call us @661-325-2695