Designjet T7200 Production Printer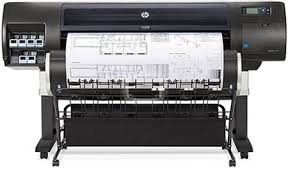 Overview:
Accelerate your production with high-speed color printing that
delivers up to four D/A1-size pages per minute.
Boost production, manage PDFs, and cut job preparation time by up
to 50% with HP Designjet SmartStream.
Increase efficiency with optional hardware accessories like an
external stacker, online folder, and scanner.
Print up to 1,968 ft (600 m) uninterrupted with high-capacity
HP ink cartridges and three heavy rolls.
Use one printer for all your black-and-white and color needs from
CAD drawings to renderings, and graphics.
Print on a wide range of media, from bond paper to glossy photo
paper, for maximum versatility.
Easily produce professional applications with crisp, sharp lines and
consistent color accuracy.
Get fast, high-quality prints every time with HP Double Swath
Technology and HP Optical Media Advance Sensor.
Save up front—take advantage of a low initial investment compared
with equivalent printing technologies.
Print black-and-white drawings at the same cost per page as
comparable black-and-white LED printers.
HP Crystal Preview from HP Designjet Smart Stream accurately
shows how technical documents will be printed.
Rely on continuous operation with maintenance and supplies
replenishment from HP Designjet Partner Link.
For more information or a quote, call us @661-325-2695.